058-6235
Reversible jaw adaptor for multi-valve engines.

Capacity 45-145mm, throated clearance 250mm big window jaw adaptor for easy replacement of valve Collects.

Dual size in 25 mm and 30 mm Diameter
058-6231
• Suitable for use on multi valve petrol and diesel engines with deep-seated valves.
• Suitable also for general use on OHC, OHV and CVH engines.
• Universal jaw with 35-142mm capacity and 165mm throat depth.
• Reversible jaw and adaptor.
• Twin cam action permits use from above or below valve.
058-6284
• Made of steel for heavy duty operation.
• Changeable jaws (straight, and bend) to be fixed on the track for stronger.
• Applicable: 12v engine, Diesel engine, And outstanding spring type engine.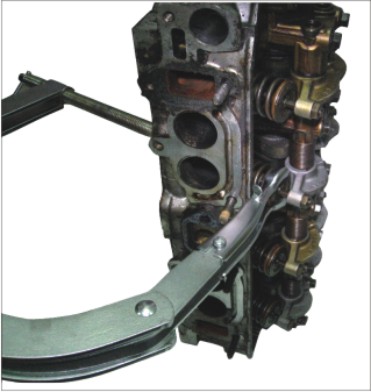 Lota C-Type Valve Lifter
Brand: Löta
Product Code: 058-6235 / 058-6231 / 058-6284
Availability: 1